A GrinderCrusherScreen.com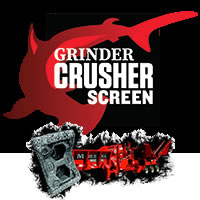 1772 Corn Rd
Smyrna, GA 30080
USA
Phone:
(770) 433-2670
Contact:
Rick Cohen
Email:
Rick@GrinderCrusherScreen.com
Website:
www.GrinderCrusherScreen.com
Since 1973, the GrinderCrusherScreen team has been assisting customers with their recycling equipment needs. We offer a variety of new and used wood grinders, screening and related equipment. In addition, we are the home of the revolutionary Hammerhead Wood Grinder Tips, among other high quality, low price parts.
Bandit Industries Inc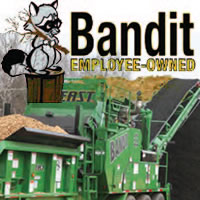 6750 Millbrook Rd.
Remus, MI 49340
USA
Phone:
(800) 952-0178
Contact:
Regional Sales Manager
Email:
sales@banditchippers.com
Website:
www.banditchippers.com/
Bandit Industries is a leading equipment manufacturer and distributor for land clearing, wood waste recycling, and mulch producing industries. We offer a complete lineup of wood reduction machines and exclusively offer ARJES slow-speed shedders and conveyor stackers. Every machine in Bandit's lineup has the full support of our employee-owned factory workforce!
Diamond Z / Rule Steel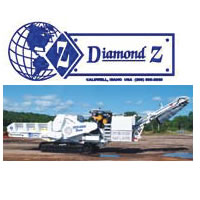 11299 Bass Lane
Caldwell, ID 83605
USA
Phone:
(208) 585-2929
Contact:
Pat Crawford, VP Products
Email:
diamondz@diamondz.com
Website:
www.diamondz.com/
Diamond Z is a manufacturer of industrial waste reduction products including both tub and horizontal grinders. We offer a complete line of both tub and horizontal grinders ranging in sizes from 30,000 to 180,000 lbs and in horse powers from 440 to over 2400. All our models are available with either diesel or electric power, track stationary or wheel mounted.
HogZilla Grinders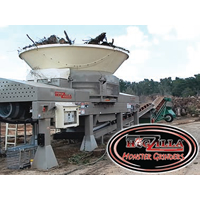 14 Commerce Dr
Sabetha, KS 66534
Phone:
(800) 743-3491
Contact:
Tim Wenger, VP/Sales Mgr
Email:
hogzilla@cwmill.com
Website:
www.hogzilla.com/
Diesel or electric powered HogZilla® MONSTER Tub & Horizontal Grinders ranging from 565-2000HP. Options including selfpropelled track drive and self-loading units available. HogZilla® MONSTER Grinders provide the highest production rates for solid waste reduction, wood recycling, land clearing, construction demolition, mulch production, tire processing, or any other tough grinding application. 20 standard models available.
Peterson Pacific Corp.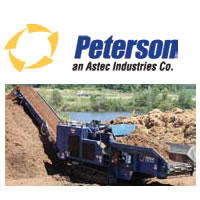 P.O. Box 40490
Eugene, OR 97404-0082
USA
Phone:
(541) 689-6520
Contact:
Email:
Website:
www.petersoncorp.com
In 1990, Peterson developed its first wood waste recycling machine. Continuous development of wood grinders, with production rates up to 150 tons per hour. With our line of blower trucks, Peterson has extended its reach into the soil erosion and landscape markets, building trucks designed for distributing bark, mulch, compost and soil amendments.
Precision Husky Corporation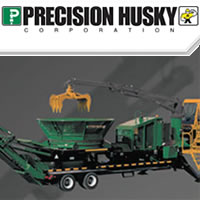 PO Box Drawer 507
Leeds, AL 35094
Phone:
(205) 640-5181
Contact:
Steve Briscoe, ProGrind Sales Mgr
Email:
steveb@precisionhusky.com
Website:
www.precisionhusky.com
Precision Husky Corporation is an International Manufacturer of Wood Waste Tub Grinders, Horizontal Grinders, Whole Tree Chippers, Debarkers, and Husky Knuckleboom loaders. ProGrind grinders are available with diesel engines from 150HP to 1100HP with electric models as an alternative.
Rawlings Manufacturing Inc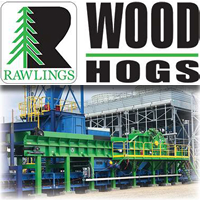 P.O. Box 4485
Missoula, MT 59806
USA
Phone:
406-728-6182
Contact:
Judi Tyacke, Sales/Project Manager
Email:
judi@rawlingsmanufacturing.com
Website:
www.wastewoodhogs.com
Rawlings wood waste recovery systems are available in stationary, portable and skid mounted systems; both vertical and horizontal models are available.
Resource Machinery & Engineering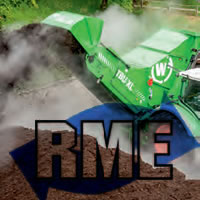 280 W. Stanley Ave, Unit A
Ventura, CA 93001
USA
Phone:
(805)641-0991
Contact:
Email:
info@resourcemachinery.com
Website:
www.resourcemachinery.com
Sales and Service of portable and stationary screening, shredding, composting, material handling and recycling equipment. Distributor for Twister Food Waste Depackager and Promeco BioExtruder, with applications in organics recycling, production of wood fiber and pretreatment AD feedstock. Distributor of Willibald Trapeziodal heap turner and shredders.
Rotochopper Inc.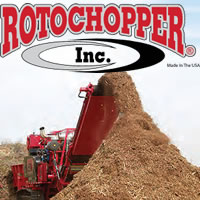 217 West St.
St. Martin, MN 56376
USA
Phone:
(320) 548-3586
Contact:
Email:
info@rotochopper.com
Website:
www.rotochopper.com
For nearly 30 years, Rotochopper has specialized in equipment that transforms waste materials into profitable opportunities like colored landscape mulch, animal bedding, biomass fuels and compost. As a factory-direct company, we are uniquely focused on providing innovative solutions and extraordinary customer service. We look forward to showing you what is possible with the power and support of Rotochopper!
West Salem Machinery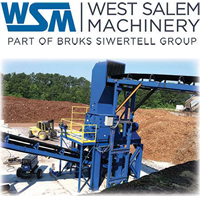 P.O. Box 5288
Salem, OR 97304
USA
Phone:
(800) 722-3530
Contact:
Patrick Lorenz, VP-Sales
Email:
info@westsalem.com
Website:
www.westsalem.com
WSM's complete line of grinders, screeners, and processing equipment provide reduced handling, labor, and energy requirements. Combined with low maintenance requirements for increased up-time and productivity, our customers realize lower cost per ton processing costs. WSM offers Horizontal and Vertical Grinders, Trommel Screens, Disc Screens, including our unique Mulch Thickness Screen, Oscillating Screens, Chain Metering Bins/Bulk Feeders, Coir Breakers and Fluffers, and Peat Moss Bale Breakers.
Badger Shredding
Denmark, WI
Phone: (920) 863-1626
---
CBI - Continental Biomass Industries
22 Whittier St
Newton, NH
USA
Phone: (603) 382-0556
---
DuraTech Industries
3780 Hwy 281 SE
Jamestown, ND 58401
Phone: 701-252-4601
---
Ecoverse
1265 Lear Industrial Pkwy
Avon, OH 44011
USA
Phone: (440) 937-3225
---
Edge Innovate
30 Farlough Rd
Dungannon Co. Tyrone, BT71 4DT
IRL
Phone: +44 (0)28 8774 0525
---
Fecon Inc.
Lebanon, OH
USA
Phone: (800) 528-3113
---
Komptech USA Inc.
10855 Dover St. Ste 1000
Westminster, CO 80021
USA
Phone: (720) 890-9090
---
Morbark Inc.
8507 S. Winn Rd, - PO Box 1000
Winn, MI 48896
Phone: (800) 831-0042
---
Slootweg Machinefabriek B.V.
J.C. Beetslaan 167
2131AL Hoofddorp,,
NLD
Phone: +31 23 5689070
---
TANA - North America
Lubbock, TX
Phone: (806) 771-9944
---
TORXX Kinetic Pulverizer Ltd
Vaughan, ON
Phone: (844) 778-6799
---
Universal Refiner Corporation
P.O. Box 151
Montesano, WA 98563
USA
Phone: (800) 277-8068
---
Vermeer Corporation
1210 Vermeer Rd East
Pella, IA 50219
USA
Phone: (641) 628-3141
---
Warren & Baerg Mfg
39950 Road 108
Dinuba, CA 93618
Phone: (559) 591-6790
---