Action Equipment Company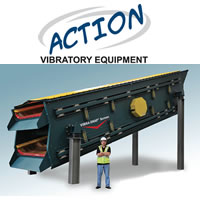 2800 Hayes St
Newburg, OR 97132
CAN
Phone:
503-537-1111
Contact:
Brian Bonham
Email:
sales@actionconveyors.com
Website:
www.actionconveyors.com
Action Equipment Company, Inc. manufactures heavy duty vibratory screening and processing equipment for the efficient handling of bulk materials.
AEI - Aggregates Equipment, Inc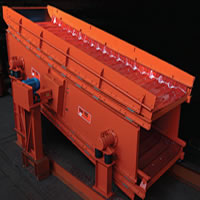 9 Horseshoe Rd, PO Box 39
Leola, PA 17540
USA
Phone:
(727) 261-0220
Contact:
Email:
sales@aeiscreens.com
Website:
www.AEIscreens.com
AEI designs and manufactures state-ofthe- art fine and coarse material screens, systems, and aggregate washing equipment. We specialize in difficult materials and the most demanding applications.
Amadas Industries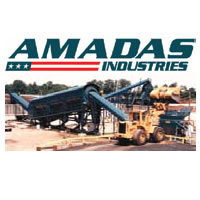 1100 Holland Rd.
Suffolk, VA 23434
Phone:
(757) 539-0231
Contact:
Tiny Andrews, Inds Sales Mgr.
Email:
tandrews@amadas.com
Website:
www.amadas.com/
Amadas Industries™ current product lines include pull-type and self-propelled peanut combines, peanut diggers, Reel Rain® irrigators, cotton stalk puller/choppers, round cotton module handlers and a line of industrial equipment for both the horticultural and recycling industries.
BM&M Screening Solutions, Ltd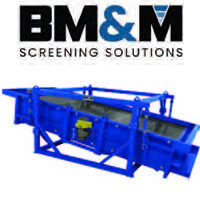 5465 Production Blvd
Surrey, BC, BC V3S 8P6
CAN
Phone:
(604) 539-1029
Contact:
Email:
Website:
www.bmandm.com
BM&M Screening Solutions specializes in manufacturing high-speed gyratory screens that are ideal for high-capacity applications. BM&M offers a worldwide reputation of quality and solid aftermarket service. Whatever your bulk and powder industry application is, BM&M will custom-build a screen for your exact needs.
McCloskey International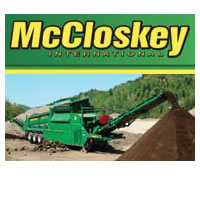 1 McCloskey Rd.
Keene, ON K9J 0G6
CAN
Phone:
(651) 829-7883
Contact:
Chris Carlson
Email:
mccloskey@mccloskeyinternational.com
Website:
www.mccloskeyinternational.com
McCloskey International leads the industry with a complete line of equipment including: trommels, screeners and stacking conveyors ideally suited to topsoil, compost and mulch. With proven performance and durability as standard, every product is field-tested before being deployed through a global network of authorized dealers.
Orbit Screens, Inc.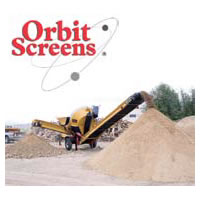 P.O. Box 345
Delhi, IA 52223
USA
Phone:
(563) 922-9230
Contact:
Brad Schnittjer
Email:
brad@orbitscreens.com
Website:
www.orbitscreens.com
One of Americas finest Screening Plant innovations. Truly a "General Purpose" machine. Screen topsoil, Mulch, Compost, Rock, Sand, yard waste, etc. Visit our web site for videos, photos and performance charts. Proudly, Made in the USA.
Resource Machinery & Engineering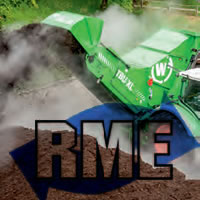 280 W. Stanley Ave, Unit A
Ventura, CA 93001
USA
Phone:
(805)641-0991
Contact:
Email:
info@resourcemachinery.com
Website:
www.resourcemachinery.com
Sales and Service of portable and stationary screening, shredding, composting, material handling and recycling equipment. Distributor for Twister Food Waste Depackager and Promeco BioExtruder, with applications in organics recycling, production of wood fiber and pretreatment AD feedstock. Distributor of Willibald Trapeziodal heap turner and shredders.
Screen USA Inc.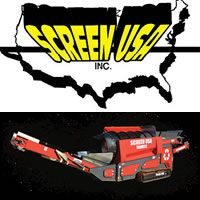 1772 Corn Rd.
Smyrna, GA 30080
USA
Phone:
(770) 433-2440
Contact:
Rick Cohen
Email:
Rick@screenusa.net
Website:
www.screenusa.net
Screen USA Inc. manufacturers top quality portable trommel screens and track conveyors. With over 40 years in the industry, Screen USA can assist you with all of your screening and conveying needs. Ask about our new 60-foot track mounted conveyor!
West Salem Machinery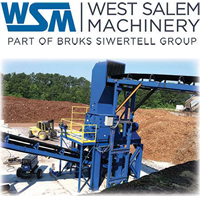 P.O. Box 5288
Salem, OR 97304
USA
Phone:
(800) 722-3530
Contact:
Patrick Lorenz, VP-Sales
Email:
info@westsalem.com
Website:
www.westsalem.com
WSM's complete line of grinders, screeners, and processing equipment provide reduced handling, labor, and energy requirements. Combined with low maintenance requirements for increased up-time and productivity, our customers realize lower cost per ton processing costs. WSM offers Horizontal and Vertical Grinders, Trommel Screens, Disc Screens, including our unique Mulch Thickness Screen, Oscillating Screens, Chain Metering Bins/Bulk Feeders, Coir Breakers and Fluffers, and Peat Moss Bale Breakers.
ALLU Group Inc.
700 Huyler St.
Teterboro, NJ 07608
Phone: (800) 939-2558
---
CBI - Continental Biomass Industries
22 Whittier St
Newton, NH
USA
Phone: (603) 382-0556
---
Ecoverse
1265 Lear Industrial Pkwy
Avon, OH 44011
USA
Phone: (440) 937-3225
---
Edge Innovate
30 Farlough Rd
Dungannon Co. Tyrone, BT71 4DT
IRL
Phone: +44 (0)28 8774 0525
---
EZ-Screen
16 West Huron St.
Pontiac, MI 48342
USA
Phone: (248) 745-5828
---
Fecon Inc.
Lebanon, OH
USA
Phone: (800) 528-3113
---
Hein, Lehmann US LLC
Alpharetta, GA
USA
Phone: (678) 566-1987
---
Komptech USA Inc.
10855 Dover St. Ste 1000
Westminster, CO 80021
USA
Phone: (720) 890-9090
---
Lake Erie Portable Screeners
Lake City, PA
Phone: (888) 448-2486
---
Premier Tech Chronos
1, Avenue Premier
Rivière-du-Loup, QC G5R 6C1
CAN
Phone: (418) 868-8324
---
REMU USA Inc.
Old Orchard Beach, ME
USA
Phone: (888) 600-0018
---
Revolver Screening Systems
Guelph, ON
CAN
Phone: (416) 460-5285
---
Sand Science, Inc
Beaufort, SC
Phone: (843) 525-6140
---
Screen Machine Industries
10685 Columbus Pkwy.
Etna, OH 43062
USA
Phone: 800) 837-3344
---
Screencore
Tyrone,
IRL
Phone: +353 83 867 8993
---
Slootweg Machinefabriek B.V.
J.C. Beetslaan 167
2131AL Hoofddorp,,
NLD
Phone: +31 23 5689070
---
Spaleck USA LLC
Loudon, NH
DEU
Phone: (412) 294-2494
---
Sparta Manufacturing
Notre-Dame,
CAN
Phone: (888) 586-6128
---
TerraSource Global
Duncan, SC
Phone: (864) 476-7528
---
Vermeer Corporation
1210 Vermeer Rd East
Pella, IA 50219
USA
Phone: (641) 628-3141
---