Stockpile Reports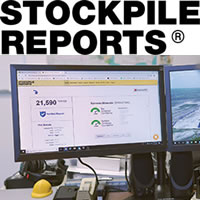 8201 164th Ave NE, Suite 200
Redmond, WA 98052
Phone:
(425) 428-5266
Contact:
Email:
sales@stockpilereports.com
Website:
www.stockpilereports.com
Stockpile Reports is a cutting-edge inventory management solution. Offering a patented iPhone app for on-demand measurement, fixedcameras for near-real-time inventory monitoring, and drone solutions for fullsite inventory measurement, Stockpile Reports provides inventory numbers you can trust! Stockpile Reports enables companies to make better, more strategic decisions, forecast more confidently, and reduce risk.