Food Waste Recycling Systems
EC All Ltd / Big Hanna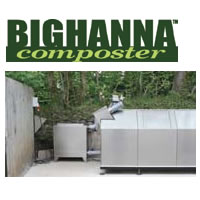 8656 Rockridge Ct
Macedonia, OH 44056
Phone:
(612) 237-0831
Contact:
Eskil Eriksson, President
Email:
eskil.eriksson@ec-all-ltd.com
Website:
www.bighanna.com
Big Hanna and Neter are Swedish, on-site, in-vessel, aerobic composting machines. The automated, continuous process produces pathogen free, ready compost from food wastes, including fish, meat and dairy solids. Big Hanna and Neter can operate in warm and cold climates, indoors and outdoors. Capacities from 330 up to 38,000 lbs. per week.
Patz Corporation
P.O. Box7, 917 Business Hwy141
Pound, WI 54161
Phone: 920-897-2251
---
Scott Equipment Company
605 4th Ave NW
New Prague, MN 56071
USA
Phone: (800) 264-9519
---