By P.J. Heller
A new $8 million composting facility — designed to speed up the composting process by as much as 50 percent or more from its two existing sites — is being planned by Orange County Waste & Recycling to help meet California's mandate to divert organic waste from landfills in order to reduce greenhouse gases.
When completed, expected sometime in 2023, the new 15-acre Valencia Greenery compost facility at the Olinda Alpha Landfill in Brea will feature a covered aerated static pile (CASP) system to more quickly convert green waste and food waste into compost while requiring less water and space.
"With the CASP system, it utilizes a cover system with a force aeration blower. This avoids the need to turn the windrows and reduces the amount of water used," explained Tom Koutroulis, director of Orange County Waste & Recycling. "At the same time, the residence time to convert the feedstock can be reduced from 120-180 days to 45-90 days depending on the feedstock material. The cover system helps reduce emissions and odors particularly when it comes to incorporating manure and food waste into the feedstock."
Both the 30-acre Bee Canyon Greenery compost site at the Frank R. Bowerman landfill in Irvine and the 18-acre Capistrano Greenery compost facility at the Prima Deshecha landfill in San Juan Capistrano both utilize traditional open windrow technology. Bee Canyon opened in October 2020; Capistrano opened the following year. Both composting sites only take in green waste.
"Once Valencia Greenery is in operation, the goal is to apply the (CASP) technology at Bee Canyon Greenery and Capistrano Greenery," Koutroulis said. "This will allow the facilities to potentially process more material within the same footprint."
The CASP system could also be used by other jurisdictions or companies to convert traditional compost sites, he added.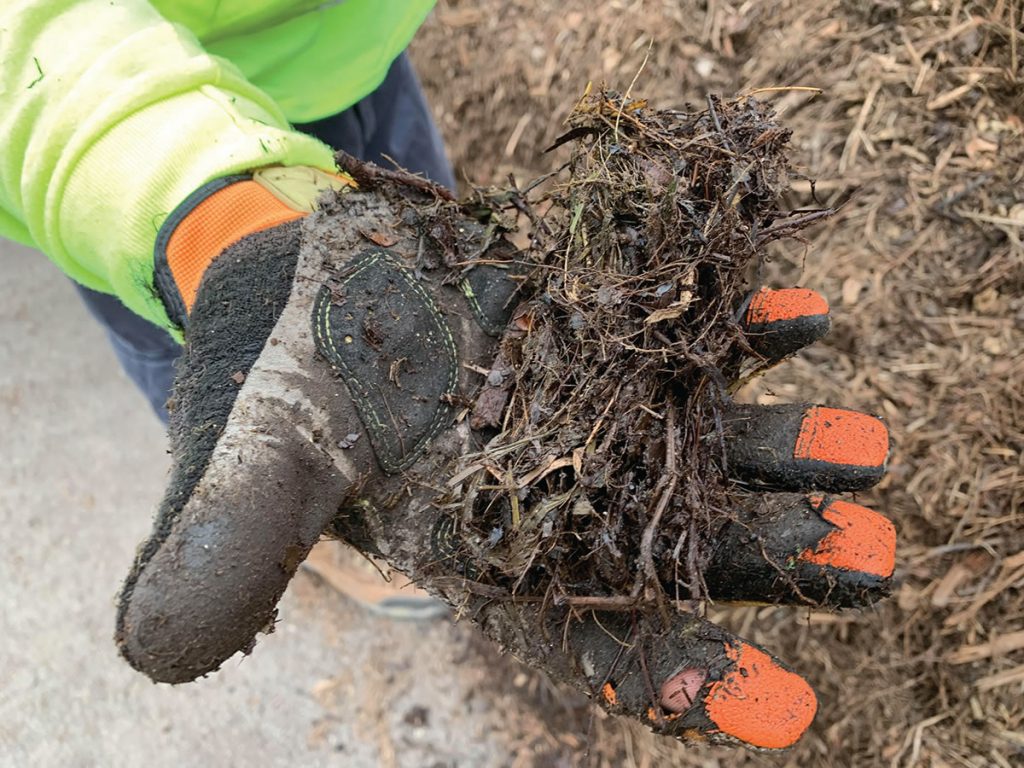 "A CASP requires more capital and infrastructure needs," he noted. "CASP utilizes a force aeration system so electricity would be needed either by direct power or through generators. Since blowers are involved and the CASP system utilizes a tarping system for emission control, a permit may be required by the local air quality district. This lengthens the timeframe to get a CASP system in operation compared to using the open windrow technology.
"Also, there may need to be some grading work needed if spargers are used for either negative or positive aeration," he added. "The compost liquids would also need to be collected if there is negative aeration. Ultimately, the facility operator needs to perform the analysis to determine the investment costs to utilize technologies other than open windrow composting."
The three landfills run by Orange County Waste & Recycling serve some 3.3 million people in Southern California living in 34 cities and the unincorporated areas. Green waste currently comes from only the unincorporated areas; the cities and their haulers decide where green waste is taken, such as to private compost manufacturers inside or outside the county.
David Tieu, deputy director at Orange County Waste and Recycling, said the compost facilities were designed to serve the entire county and contract negotiations with the cities would be occurring again later this year. Those long-term agreements could include having the cities bring their green waste and food waste to the county compost facilities.
"For the long term, what do they want to do with their green waste," Tieu asked. "We built these facilities (with that in mind) . . . If they want to bring it to us, we can accommodate them. If they decide not to, that's their prerogative."
Bee Canyon Greenery and Capistrano Greenery each receive about 150 to 200 tons per week of feedstock material, although they are permitted to handle substantially more. Bee Canyon, for instance, is permitted for 437 tons per day. The planned Valencia Greenery site will be permitted for 230 tons per day when fully operational, according to Tieu, although it will start its first phase at a fraction of that amount.
"Currently, we are in the process of obtaining the entitlement permits with the state, local fire authority, and air quality management district," Koutroulis said. "Valencia Greenery will start out as windrow composting facility operating at a very small scale as we work to obtain the entitlements for the CASP system."
The CASP system will be provided by Sustainable Generation of Wilmington, DE, which has 300 installations worldwide, according to its website. Other companies sell similar types of CASP systems.
The impetus for the latest compost facility was a California law (SB 1383) that went into effect Jan. 1, 2022, requiring every jurisdiction to provide all businesses and residences with organic waste collection services for food waste, yard trimmings and paper and cardboard and to recycle those materials. Those items make up half of what Californians throw away in landfills. The goal is to reduce organic waste disposal by 75 percent by 2025.
Burying that organic waste in landfills generates methane, a potent greenhouse gas that is more than 25 times as potent as carbon dioxide at trapping heat in the atmosphere, according to the U.S. Environmental Protection Agency.
It is estimated that about 20 percent of the methane emissions in California come from landfills.
Besides the environmental benefits of reducing methane emissions, Koutroulis said diverting organic waste from the landfills should extend the life of the Olinda, Bowerman and Prima Deshecha landfills. The Olinda site is scheduled to close in 2036; the Bowerman in 2053 and the 1534-acre Prima facility in 2102.
Exactly how food waste will be collected and brought to the compost facilities is still to be determined. Some jurisdictions outside Orange County have advised residents to toss food scarps in with regular household trash and then it is separated out at landfill processing centers; other areas have dedicated bins for compostable materials including food scraps.
As Orange County cities develop their compliance plans, "they will be working with their respective haulers on how to collect the green waste and food waste," Koutroulis said. "Many cities already offered a yard waste bin to their residents which is collected by the haulers for source separation and recycling. Many cities are also informing their residents to dispose of their food waste into the yard waste bin as well. Over time we will have a better sense of the volume of food waste that will be mixed with the green waste. At this time, we are only seeing yard waste come to our facilities.
"Ultimately," he added, "the goal is to be able to utilize the composting facility to handle as much organic waste as possible."
Every other month, Soil & Mulch Producer
News brings you important stories about:
• New Technology
• Products
• Industry News
• Research Studies
Soil & Mulch Producer News features articles and services relevant to your daily operations.