NC State University: Solving Problems and Creating Opportunities for the Soil and Mulch Industry
By Dr. Brian E. Jackson and Dr. Bill Fonteno
An overview of the activities and programs happening in the Horticultural Substrates Laboratory (HSL) at NC State University (NCSU)
Past and Ongoing Endeavors
For more than 35 years, the Horticultural Substrates Laboratory (HSL) at NC State University (NCSU) has worked with the mulch and soil industry, solving problems in manufacturing, quality control, soil formulations, component substitutions, aging and composting in bagged and bulked products.
The purpose of our research and teaching program here at NCSU is two-fold: 1) to solve current problems for commercial growers and gardening consumers and 2) to create new opportunities in the mulch and soil industries. This work which started in the 1980's has addressed specific issues such as bark aging and processing, finished product particle size and bulk density, improvement of air space in bagged and professional mixes while maintaining water holding capacity, helped define the efficient use of new components like coconut and wood fiber and improve the design of plug trays for plant producers. Other advances have come in the way of developing systems for soil manufacturers with multiple plant locations and/or co-packers to evaluate consistency of materials and products produced from each location over time. Through all of this we have worked with individual companies to develop programs tailored to their specific needs, focusing on testing initial inputs, formulation/mixing issues and testing final products.
For retail products, members of the HSL have provided research and consultation for over 20 years to the Mulch and Soil Council (MSC), the industry association of manufacturers of mulch and soil products. Over this time progress has been made to help develop testing protocols for a national quality assurance program run by the MSC. This included developing laboratory procedures and plant performance greenhouse testing for the industry (Fig. 1). To that end, the HSL staff examines approximately 1,000 bags of finished product each year from around the country. Together with the MSC, national surveys of bagged retail products have been conducted for 12 years which test the quality, consistency and performance of retail products off the shelf from box stores. Other work has included the consultation and advisement of product manufacturers to help them comply with demands from big-box stores and independent garden centers to lower costs while maintaining product quality and performance.
To accomplish these and other tasks, several testing techniques needed to be modified and some new ones created to better analyze and characterize soil and mulch products. This involved improving our fundamental understanding of soil physics, soil chemistry, and soil microbiology to develop lab technologies and quality control procedures. This included tests for wettability, initial hydration, total porosity, air space and water holding capacities, heavy metal contamination (like arsenic, chromium, copper, etc.), phytotoxicity, water percolation and drainage, improved non-destructive methods for pH and soluble salt measurement, and improved non-destructive measurements for assessing and quantifying root growth of plants growing in containers and landscapes, etc. (Fig. 2). Through the process of modifying existing lab procedures and creating new ones, mathematical models that predict how a material (organic or inorganic) or mix/substrate will perform in any size container from small plugs to 50 gallon pots was also developed.
Solving problems and exploring new ventures and opportunities has taken us into over 40 countries spanning five continents since the year 2000 alone. Those experiences helped us to gain a broad and diverse global understanding of the soil/mulch industry and they helped shape our past, current, and future research objectives as we move forward in the years to come. The problems and the opportunities that currently face our industry are forever changing as is true with any other facet of the fast-paced horticultural world. With the adoption and utilization of new ideas and technologies we strive to continue working towards continued advancement, efficiency, and consistency of soil and mulch products
Current and Future Endeavors
The variability and extreme diversity of organic materials used across the U.S. in soil and mulch products is immense, and only growing larger. While much is known about the utilization of many traditional organic materials such as peat moss, there remains a great amount of uncertainty about the optimal use of many materials, including pine bark, composts, agricultural wastes, etc. To answer some concerns and product consistency issues about pine bark stability and maturity, the aim of some of our current research is to utilize traditional and novel methods to understand/characterize pine bark and wood materials at various degrees of aging to determine material stability and usability (Fig. 3). There are currently no enforceable regional/national/governmental guidelines, regulations, or standards that guide the bark/wood/mulch industry in regards to processing variables, pile/material handling, and product age management. With the breadth of an 18 month study currently underway we hope to quantify the effects of bark processing, handling, and aging in ways that have not been attempted before (and properly documented).
A second major effort currently underway is taking aim at better understanding the role of organic material processing and particle characterization and assessment. As modern agriculture endeavors for precision and reproducibility, it is our goal for soils/substrates to be better understood so that we can better design them for specific purposes, crop needs, and longevity requirements. To better quantify the role of organic material particle shape and size, new technologies currently used in the fields of engineering and medicine are being evaluated for their potential use in substrate science. A Computer Particle Analyzer II by W.S. Tyler Group is capable of analyzing a material and providing a quantifiable 2-D characterization of each particle in a substrate. Advances in X-ray technology, software, and commercially available instruments have opened the door for the use of X-ray micro-tomography in substrate research, potentially providing unprecedented 3-D, in situ characterization of substrate particles, pore structure, and root architecture research (Fig. 4). Work in these areas continues and will be released soon.
Training of industry personnel has been and continues to be one of the key outreach activities of our lab but it is not the only group being schooled in "all things soil and substrates". Being part of the academic community also involves the training of our future professionals….our students. From undergraduate students in two-year associate degree programs, four-year bachelorette programs, to graduate students in Master of Science degree programs, or PhD programs we embrace the opportunity to share our love and knowledge with any and all individuals who are interested in the technical, basic, or applied aspects of the soil and mulch industry. The training of graduate students has been an integral part of the history of the Horticultural Substrates Science Research Program and it continues to be the most important aspect of our lab. While there are many services that our lab provides to the horticulture industry, none are more important and valuable than the participation, training and collaboration of the excellent graduate students who have left their mark on our program. Substrate Science is an extremely diverse and broad area of horticultural science which allows many potential areas of research (applied and basic), and development. Graduate students in our program will often incorporate facets of (soil) chemistry, (soil) physics, mathematics/modeling, microbiology, nutrition, pathology, and engineering principles into their research projects. It is only through this comprehensive collaboration of many disciplines that substrate science is able to evolve, improve, and remain cutting-edge like all other aspects of the horticultural crop production! It is from the relationship and collaborative partnerships with the industry that we are able to financially support all activities in the lab, most importantly being the funding of our graduate students.
Additional information and literature about the research, service, outreach, and teaching programs of the NCSU Hort Substrates Lab can be found on the website: https://projects.ncsu.edu/project/woodsubstrates/
About the authors: Dr. Brian E. Jackson is an Associate Professor and co-director of the Horticultural Substrates Laboratory in the Department of Horticultural Science at NC State University. Brian can be reached at Brian_Jackson@ncsu.edu . Bill Fonteno is a professor and co-founder/director of the Horticultural Substrates Laboratory at NC State University and can be reached at bill_fonteno@ncsu.edu.
---
Figure 1. Plant growth trials of consumer and professional products provide valuable information on product performance, consistency and bag/product claims. This photo illustrates some of the undesirable soil qualities that such trials can expose/highlight providing data to companies to help them improve their products.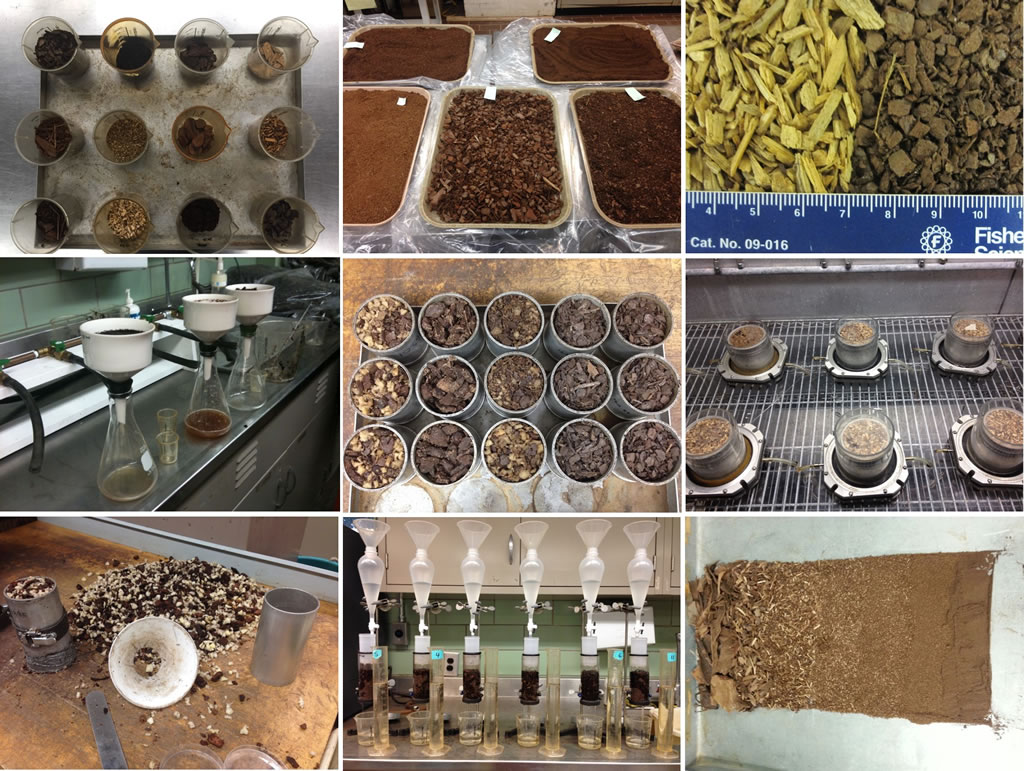 ---
Figure 2. There are over a dozen testing protocols and analytical techniques utilized in the Hort Substrates Lab to characterize the physical, chemical, hydrological, and biological properties of soil, substrate, and mulch materials.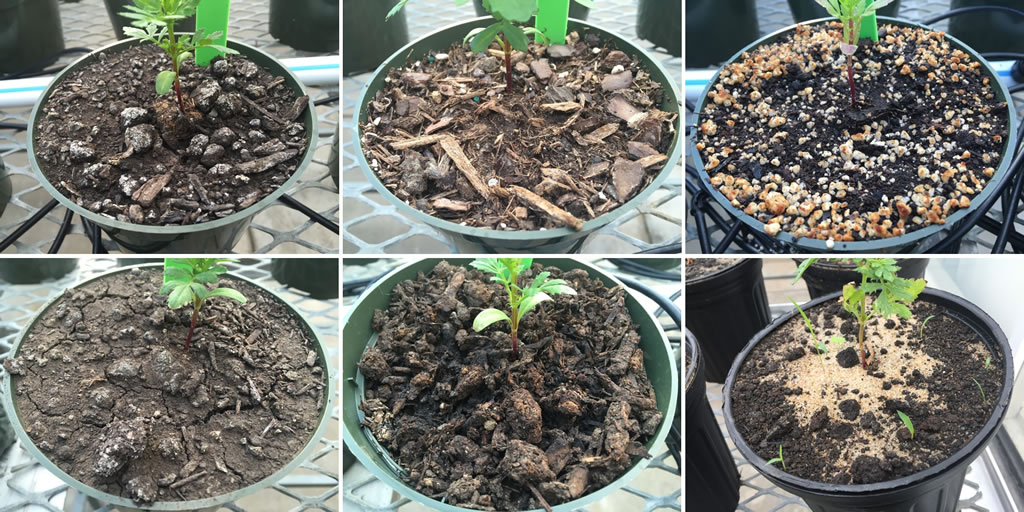 ---
Figure 3. Thorough assessment and testing of bark processing and aging techniques using new technologies and protocols to better, more fully, understand the changes in organic materials over time and how the usability of those materials may change. Assessing color changes, thermal signatures during composting/aging, and determining 3-D volume assessments.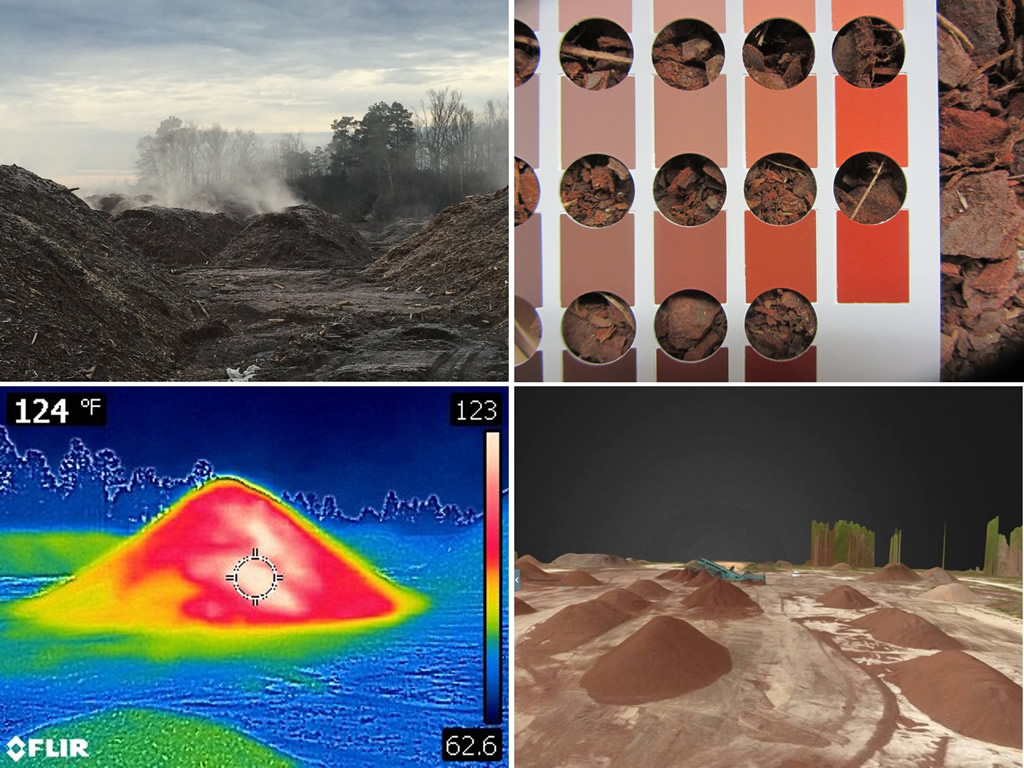 ---
Figure 4. Cutting edge substrate and soil science endeavors are underway to better characterize organic matter particles and their relationships to air and water capture, flow, and changes over time. Utilizing a Computer Particle Analyzer (top two photos) and X-ray microtomography (bottom two photos), the NCSU Substrates Lab strives to remain cutting edge in the pursuit of science and new economic/product development for our industry.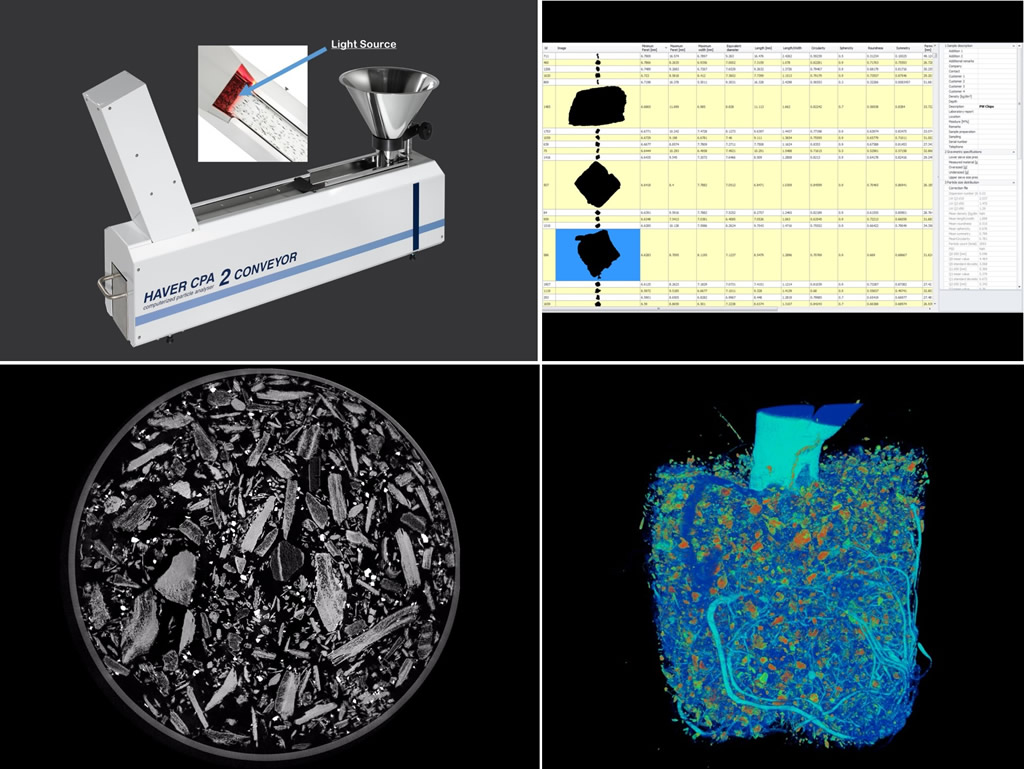 Every other month, Soil & Mulch Producer
News brings you important stories about:
• New Technology
• Products
• Industry News
• Research Studies
Soil & Mulch Producer News features articles and services relevant to your daily operations.